HZN 2023-05-12[HOLISTIC] Chloe Xiong
Carrying on Harrow's long tradition of public speaking, Harrow Zhuhai's second bilingual speech contest was held as scheduled. Our Harrovians need to demonstrate not only their public speaking prowess but also their language skills in both English and Chinese.
The bilingual speech contest has two themes in both Chinese and English. The topic of the English speech was "What makes a great leader?", which is a very meaningful and comprehensive topic for students. For example, Queena, the first-place winner of the competition, used the trait of humility as an entry point, quoting from the scriptures and combining examples, "leadership isn't about being in charge; it's about taking care of those in your charge." Humility, trust, listening, these are all excellent qualities that a good leader needs to possess.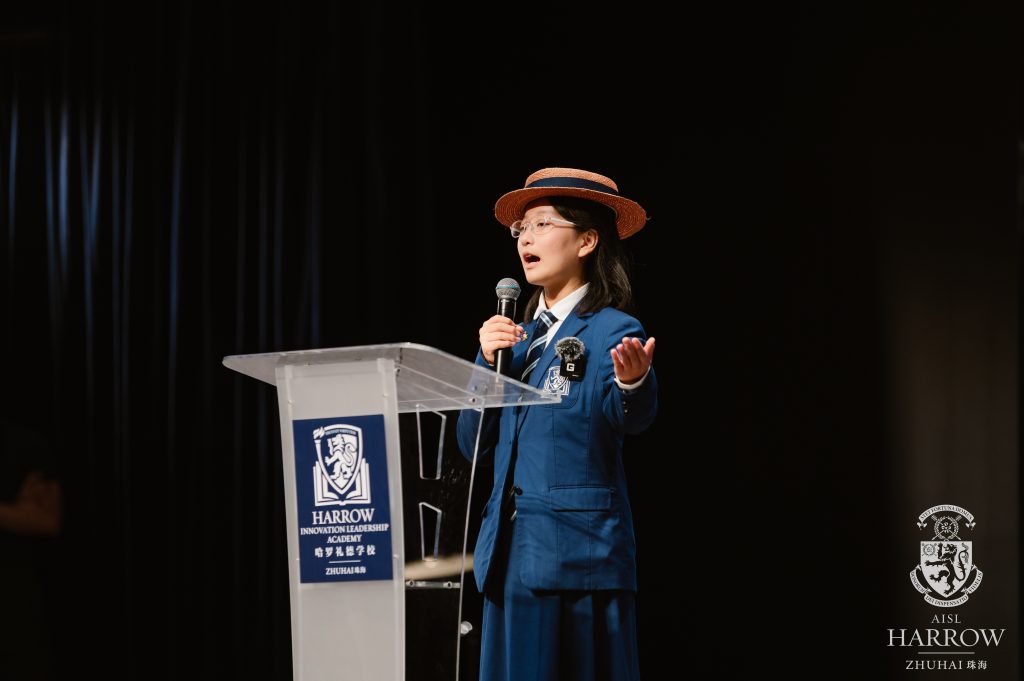 The theme of the Chinese speech echoed the most important holiday in May – Labour Day. Celebrating working people and promoting the spirit of hard work and diligence is a major theme in passing on traditional Chinese virtues, which requires students to have a positive view of the society around them and a strong concern for the world beyond. Shawn from G7 said, "It's easy to do one or two good deeds, and it's easy to persevere for a day or two, but it's hard to do good deeds for the rest of your life", leading to the introduction of Yuan Longping, the father of hybrid rice, and Lei Feng, a model worker, calling on us all to learn from their dedication to self and others.
The outstanding Harrow speakers shine on stage, their speeches simple yet profound. Behind these shining lights is the richness of the learning that takes place at Harrow. Harrow's holistic education creates a bigger stage for children and provides them with more opportunities to develop in all aspects of their lives.