HZN 2022-11-4 [FOH] Cedric Liu
As part of a new home-school co-operative education programme in the new school year, the Harrow Talks welcomed its first parent guest on Friday – Ms Liu, a parent of a Year 4 student. As a member of the Friends of Harrow Committee, Ms Liu was a visiting scholar at Yale University in the United States. She is not only a well-known lawyer, but also an adventurer who dares to take on challenges. This time, she shared her experience of an adventure trip to Antarctica with harrovians.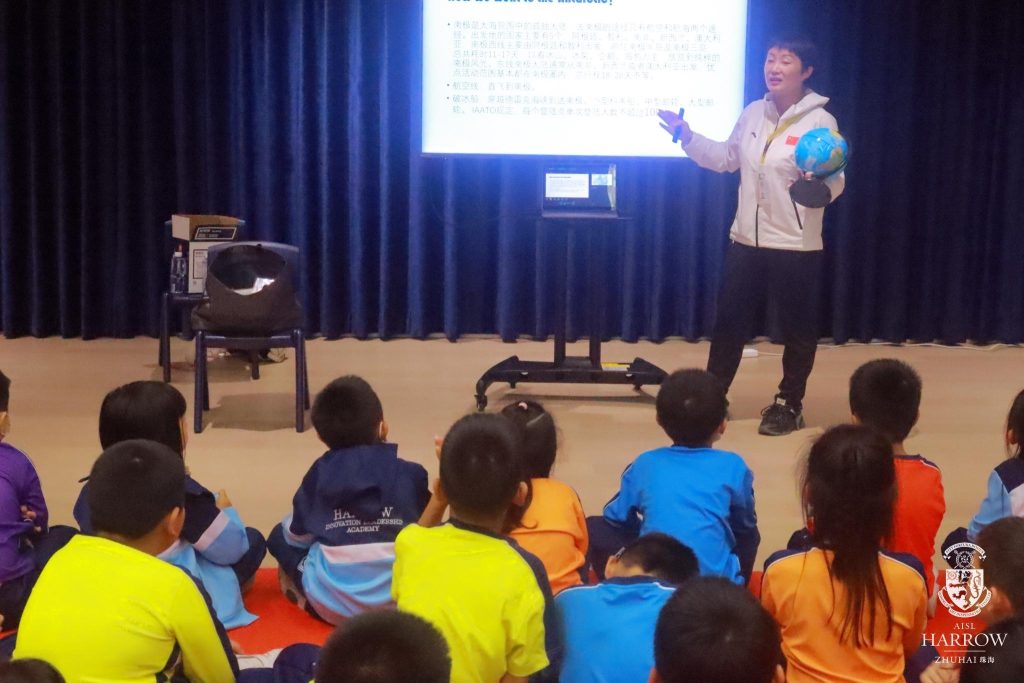 The Harrow Talks aims to bring together quality parental resources from Harrow Zhuhai and the friends of Harrow to provide richer and more diverse learning opportunities for Harrow Zhuhai students, and to provide a friendly and positive platform for the Friends of Harrow community in Zhuhai to exchange and showcase.
Ms Liu shared her experience of travelling to Antarctica, describing to harrovians a beautiful, yet hidden and dangerous polar world from her own experience. During the sharing process, Ms Liu also asked various questions, which led to heated discussions among the students. The students discussed the four Harrow Core Values of Courage, Honour, Humility and Fellowship, and thought outside the box about how to deal with bad weather and emergencies in Antarctica. The students said that the Antarctic expedition was really wonderful and that they had learned a lot about geography and biology that they had not known before, as well as a lot of life lessons through this real-life experience.
The Harrow Talks are another successful example of home-school cooperation as the Harrow community matures further this school year. Harrow Zhuhai is committed to building a Positive Learning Community and we welcome more parents to join us in our Harrow Talks.